Different in...
We wanted to create something different from the beginning. 
We had 2 choices.
The first, the simplest one but the less fascinating for us, was to become assemblers as the others. We could buy pre-finished frames on the market, motors of different brands, accessories and assemble everything to create our own electric bike, but without a Neox's soul.
The other way, the most difficult but much more exciting for us, was to create something technically new, starting from raw material. Starting from simple pieces of steel, alluminium and plastic to create, following our ideas, a different bicycle with helped pedal. The choice, for our technicians, was easy: we decided to be 100% producers!
NEOX Born electrical is our story. NEOX born electrical, the pure innovation of an ancient concept: the bicycle. Futuuristic, but at the same time contemporary, a break with the past, a solution designed for the future. Because Neox doesn't imitate. Because Neox is born electrical.

The Neox revolution starts here: passion and innovation in finding the best solutions that modern technology can provide, applied for the first time to an e-bike. Because Neox has been studied and developed to leave for dust what has already been achieved in the field of e-mobility. Because Neox is an advanced e-bike without compromise, directly created and designed to be electric. Because Neox offers extremely high performance thanks to motor-integrated sequential gearing, the best in efficiency.
Neox technology brings greater control and comfort than any other system known, making Neox the most advanced e-bike on the market, designed to make the utmost of body-machine interaction. Because Neox is a new vehicle that revolutionizes the constructive technology of e-bikes and the architecture and design of the most used means of transport known to the world, maximizing its efficiency and performance. It is a mix of technology and innovation in an essential and exclusive e-bike, where design purity proudly proclaims the product totally Made in Italy.
No matter what you aspire to, your perfect e-bike is waiting for you. Each with the best features for any use.
Different in... Technology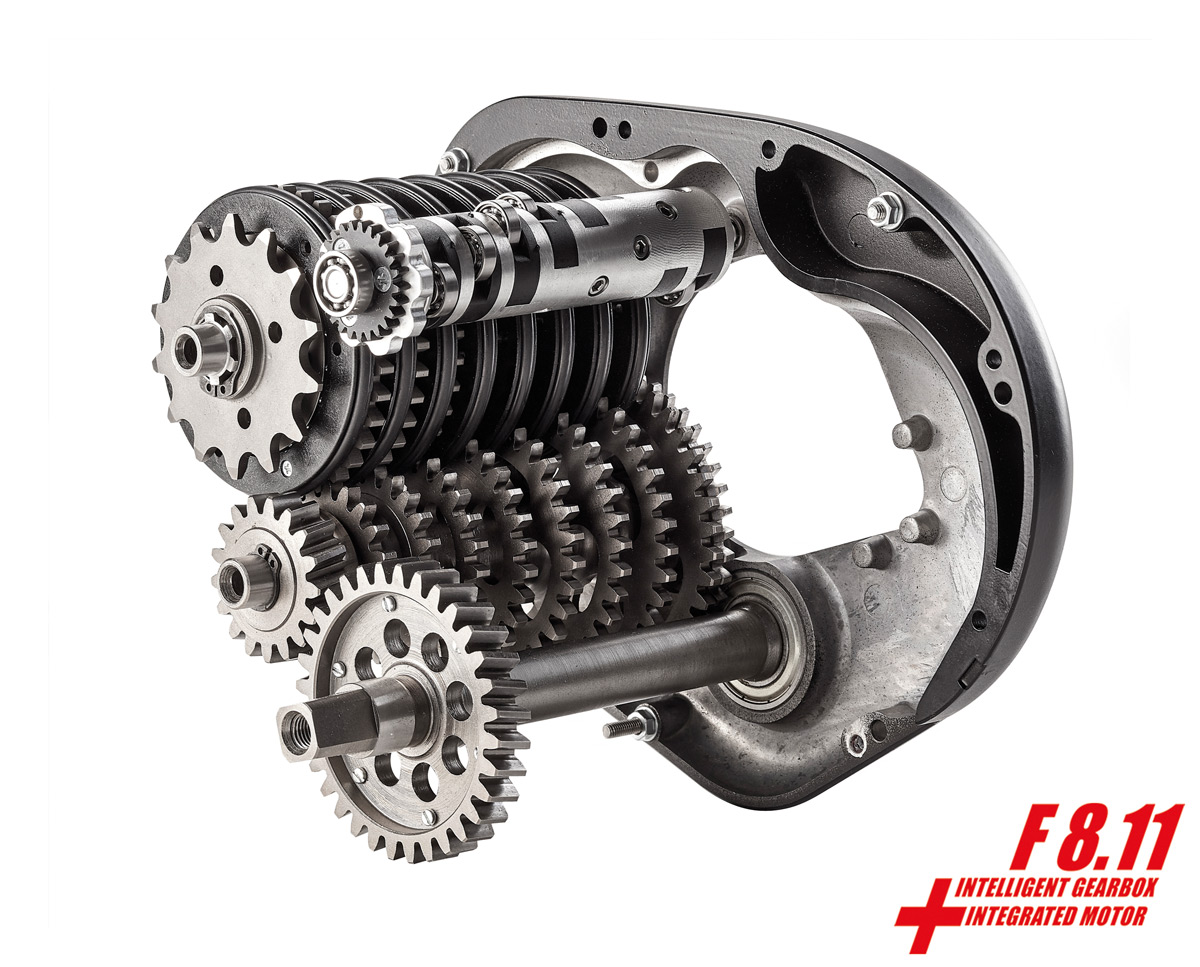 The heart of every Neox is the F8.11: a patented sequential shift with rotary coupling and motor assist integrated right within the gearing. Conceived, designed and produced in Italy at our Neox laboratories. Researched and developed to offer greater precision, control, comfort and efficiency than any other system in the e-bike world. Why is the F8.11 so special?
Because it creates an extraordinary interaction between bike and cyclist. Because the F8.11 makes for a truly unique transmission system. Put in motion by the cyclist via the pedal cranks, it allows shifts and transmission to the rear wheel without any transverse movement inside or outside of the system, as instead happens with all traditional gears. An effort sensor with Neox technology that detects torque between primary and secondary gears controls the whole system. An absolute revolution in terms of performance. A revolution that only Neox can guarantee.

We take care of your Neox ... together with you. Because Neox is synonymous with high quality, durability and functionality in material definition, production and processing and in eye-catching finishes and e-bike design.
Neox supplies only high quality bikes. In order to fully exploit the potential of your product, follow the guidelines in your Neox manual. On purchasing any Neox model, use the 'Neox4You' package to activate your warranty.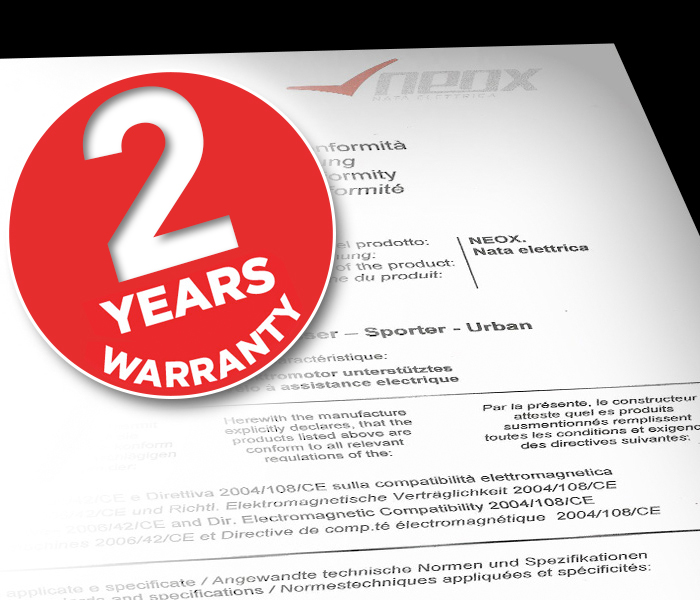 Different in... Functionality
One Neox… many uses! Facility,
functionality and speed in the wheel change allow to adapt your Neox to different routes, lands and uses.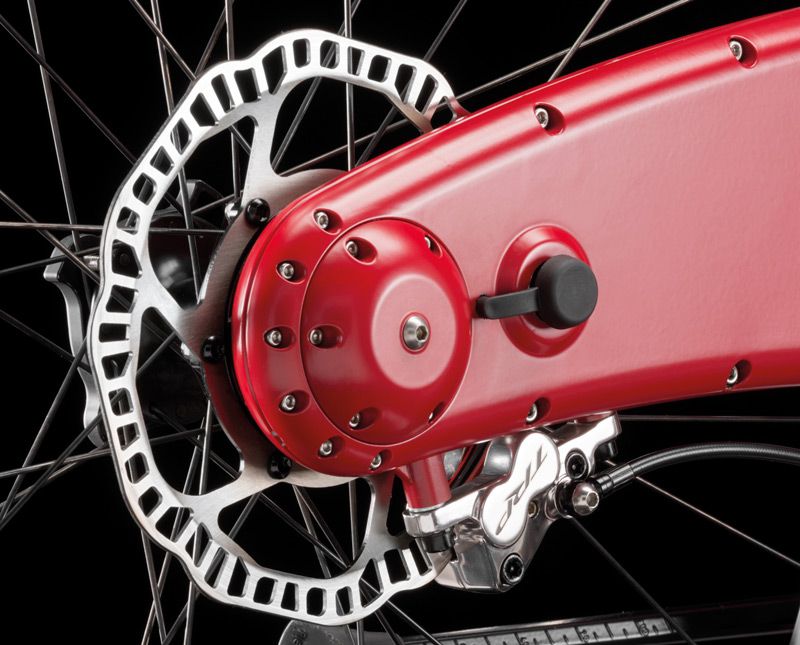 Neox Key
Rear hub mechanical locking system. Integrated, fully protected and inaccessible within the single arm fork. Mechanically deactivates and reactivates rear-wheel movement.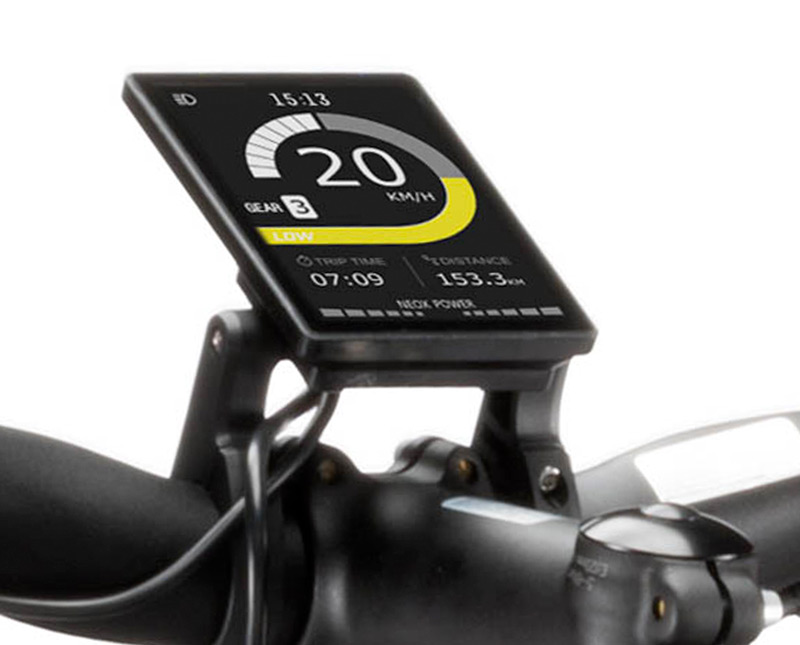 Neox Pin
Neox introduces the first ant-theft system with reactivation of the transmission and electronics by personal PIN code. When the anti-theft is armed, speed shifting is totally deactivated. This allows the pedal cranks to rotate freely clockwise and counter-clockwise without transmitting any movement to the rear wheel.